Lonsdor K518ISE Reviews  are collected and more will be updated here.
Thanks to all contributors from  http://mhhauto.com/   and  http://www.digital-kaos.co.uk/
Reviews on Lonsdor K518ISE …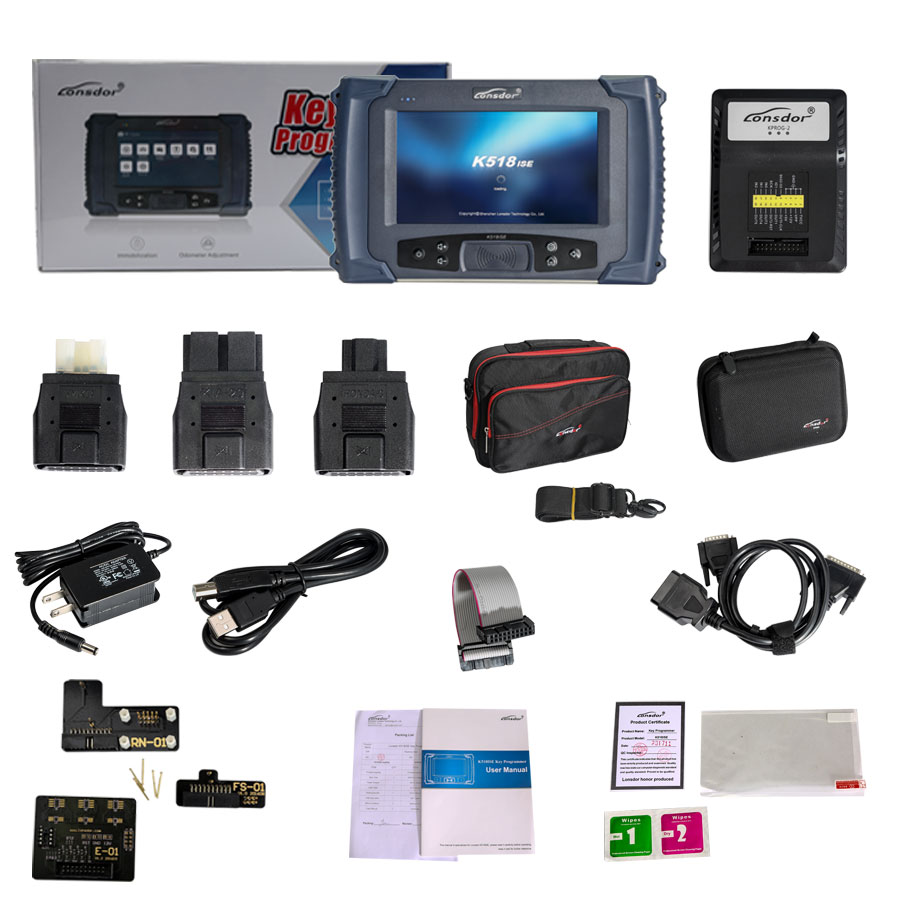 December 3, 2017
2005 Renault Scenic 3 button button button. The key was coded in 1 minute without the need to enter a PIN.
2007 Suburu Impreza. ID62 chip coded with the
Nissan Qashqai 1 system 2007. It took me 5 minutes to code the remote key. I would have taken less if I did not have to go through the different systems before the device communicates properly. The pin was automatically generated and entered purchase device
December 2, 2017
2017 Buick GL8 Smart key programming
Fiat Ottimo key sweetener key programming via OBD
Rolls-Royce Wraith, Ghost programming key
2016-Ford Kuga 49 chip smart programming programming without pin code
Lamborghini LP580, LP610, LP700 program key smart
Lincoln continental key programming smart without pin code
2017 Ford Taurus smart key programming without PIN code and without dismantling
2017 Ford New Mondeo Programming smart key
Fiat Yung Yue / Flying Cheung smart key programming
November 30, 2017
mini case3 done, bmw case 2 done, volvo xc60 done
November 30, 2017
all lost keys bmw 540 case2 japan model
today reset G immobox done, immobox vw read PIN code ok but no program key
November 27, 2017
Toyota highlanler 2015 prox
it is important to say that I also tried with techstreem I was able to reset but the car will not close the programming, dry ligh would stay after touching the emblem and would not beep after the contact of the 'emblem. I thought it was the key so I caught another one and the same one. The keys lock the tho.
November 29, 2017
I tried the lonsdor k518ise on 9 vehicles in the last two weeks all the vehicles were lost all the keys and here is what I find
2002 MK4 Golf – Unable to pull the pin so I used different equipment to read the key and code key
2003 audi tt. Failed to read the spindle, so I used different equipment to read the spindle and the
2006 MK5 Golf code key – pulled correct pin unable to encode the key.
2009 Corsa D – unable to read pin
2008 Suzuki Swift – well communicated but unable to code the key without pin number. I used skp900 and key coded right away without asking pin
2009 BMW E90 – Asked Cas3 + to be updated it was a spare key not lost key
2007 Fiat Punto great – No communication
2006 Honda Accord key coded easily and quickly
2010 MK6 golf – need key work. does not give the option to the dump code key.
November 24, 2017
So far I have tried on four vehicles
tried on a system ah Toyota completely failed to talk to the car,
tried 2007 ram dodge would not talk either,
tried on bmw 2008 case3 ++ would talk to the car but canoe lis isn id.
woks beutif on prox nisn.
I also used it on 2018 bmw x5 he lost keys, he talked to givin car key positions. car too new, no key available far.
NO PIC SUPPORT ON THE DEVICE! NOT COOL!
November 17, 2017
Program Chevrolet Cruze Remote Control Keys Lost by
OBD Program Mini Cooper CAS3 +
Programmer Smart Remote OBD VW Polo 2009 4th IMMO NEC + 24C32
Program Remote Key Ford Ranger 2016 Remote Control Key
Isuzu D-Max Remote Control Key
Ford Everest 2016
Program Remote Key Suzuki Jimny 65
Ford Kuga smart key program 2013 PIN-free smart key
Lexus program 74 Chip Smart Key All keys lost by
OBD Infiniti Q50
2014 Smart Key Program 2014 Volvo C30 2011
Chevrolet Epica Semi-Intelligent Key Program Pre-2012 All Keys Lost
Read Hyundai / Kida ID46 Smart Key Pin Code From
OBD program LandRover Evoque 2013 Smart Key
Program LandRover Discovery 4 2014 5 keys Smart Key
Program Porsche Macan Turbo Smart Key Program
Range Rover 2008-2015 Smart Key
Program OBD Volvo XC60 Smart Key Keyless Keyless
Program Renault Koleos 2011
Program Smart Key Lexus ES200 Smart Key Keys Lost by OBD (Work with Emulator Set)
Program Volvo V60 Smart Key
Add Intelligent Key to Maserati Ghibli 2017 Success
Program Mazda CX-5 2016 All Lost Smart Keys
Volkswagen Phaeton (2009)
Key Programming Lonsdor K518 Volvo XC60 Intelligent
Key Program Lonsdor K518 Volvo V40 Smart Program
Key Program Bentley Mulsanne 12 Smart Key
Program the remote control on a program Isuzu D-Max 4 × 4
Audi Q7 Smart
Program Program Remote Control Lamborghini LP560
Read Jeep Cherokess Pin and Program Smart Key by OBD
Read Hyundai i10 47 PIN Code and Smart Key Program by OBD
Read Peugeot 408 BSI Pin Code and Program All Key Lost by OBD
Change the odometer on Ford Mondeo 2014 by OBD
November 18, 2017
2016-Ford Kuga 49 Smart key programming chip
Rolls-Royce Wraith, Ghost Programming key
2017 Buick GL8 key programming smart
Fiat Ottimo Toothless programming key via obd
1  November 2,  2017
Toyota smart key – all keys lost, Volvo, the new Ford Smar key, the new smart key Maserati, Reynolds proud code reading Pin; Modern Kia 47 / 48A – PIN code reading.
BMW, Porsche, Land Rover, Jaguar, Lamborghini, Bentley, Ferrari, Cadillac and other key programming of luxury cars …
Beiqi …
Beiqi EX260 standard key program
Beacon EX200 Common Key Program
Beiqi BJ40L regular key program
Beiqi EU260 regular key program
Beiqi EV150 regular key program
Beiqi EV150 economically ordinary key program
Beiqi EV160 regular key program
Beiqi EV200 regular key program
Beiqi EU220 regular key program
Beiqi prestige S50 smart key program
Beiqi Vanguard H3 Smart Key Program
Beiqi magic speed H2 smart key program
Beiqi Vanguard S6 Smart Key Program
Beiqi Vanguard S3L Smart Key Program
Beiqi Smart Speed ​​H3F Smart Key Program
Beiqi Sketchdown S5 Smart Key Program
Beiqi magic speed S6 remote control keychain program
Beiqi BJ40L program key remote keychains
Hanting X7 smart key program
Lifan …
Lifan 520 car key program set of immobilizer system
Lifan sedan X60 Siemens key program immobilizer system
Lifan sedan 620 Siemens key program immobilizer system
Lifan 520 Siemens car key system immobilizer program
Lifan sedan X60 key program set of immobilizer system
Lifan sedan 620 key program set of immobilizer system
Lifan Maiwei cars smart key program
Lifan micro-car Hing Shun Ji-ting key program immobilizer system
Lifan micro-car Fushun Ji-ting key program of the immobilizer system
Lifan micro-car key immobilizer system Feng Shun Ji-ting
Lifan micro-car Fengshun Siemens key program immobilizer system
Lifan micro-car Xingshun Siemens key program immobilizer system
Add the Mazda Angkesaila smart key program (2017);
Nissan Key System (4 digit code);
Nissan Remote System;
Nissan Intelligent Key System (new 20-digit roller code);
The Nissan Intelligent Key System (new 20-digit roller code) supports Qashqai (after 2015);
The Nissan Intelligent Key System (New 20 Digit Roller Code) supports Q5;
The Nissan Intelligent Key System (new 20-digit roller code) supports X-TRAIL (before 2013);
The Nissan Intelligent Key System (new 20-digit roller code) supports Kroraina;
The Nissan Intelligent Key System (new 20-digit roller code) supports the QX60 (after 2013);
The Nissan Intelligent Key System (new 20-digit roller code) supports teana-vip (after 2013);
The Nissan Intelligent Key System (new 20-digit roller code) supports Cima (after 2013);
The Nissan Intelligent Key System (new 20-digit roller code) supports JX35 (after 2013);
Hyundai / Kia Smart Systems (Chip 47) added for learning keys without PIN;
Addition of the FIAT Viaggio key program (Read the PIN code and make the dealer key by OBD)
Hyundai / Kia smart systems (8A chip) added for learning keys without PIN;
Hyundai / Kia Smart Systems (46 chips) added for learning keys without PIN;
Fiat …
-FIAT Viaggio key program
-FIAT Palio key program
-FIAT Siena key program
-FIAT Bravo key program
-FIAT Perla key program
-FIAT Perla key program
-FIAT Freemont smart key program
-Mercedes -Benz Class C, CLK Class, Class E, Class S Opening Boot Program;
Added key program LUXGEN (china) without Pincode;
Volvo …
-Volvo S80 (before 09 smart key) key program;
-Volvo V40 key program;
-Volvo C30 key program;
-Volvo V60 key program;
-BYD smart key program without Pincode