There are two options of MQB dashboard odometer correction: Xhorse VVDI2 and Obdstar tools(Obdstar X300M, H110 or key master, etc.)
So, how to chose and which one is better?
In details…
Both the Xhorse and Obdstar tools are confirmed to work no issues for VAG MQB.
VVDI2 VAG MQB Immobilizer & dashboard: confirmed!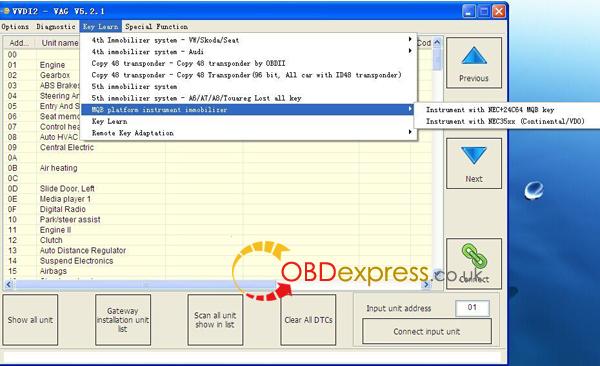 Obdstar H110 VAG MQB dashboard: confirmed!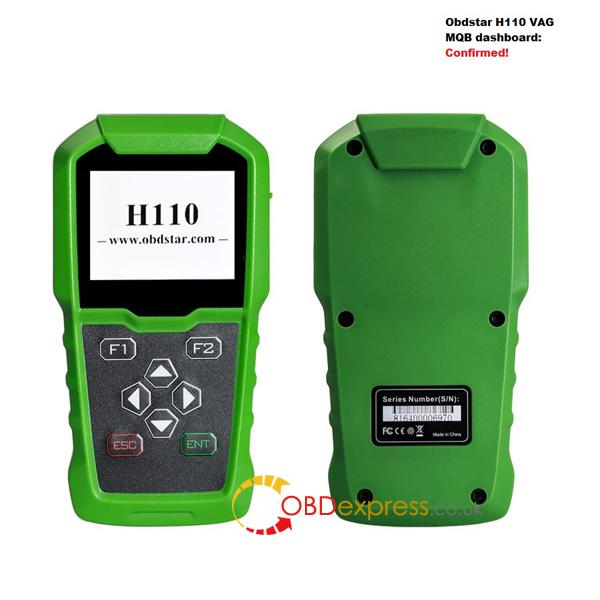 Obdstar X300M VAG MQB dashboard: confirmed!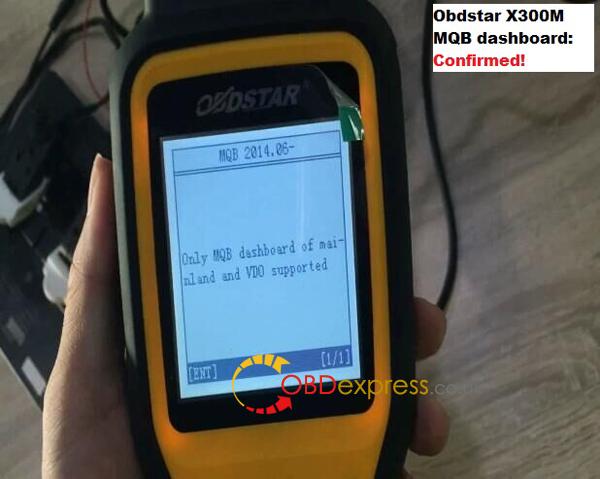 Obdstar key master VAG MQB dashboard: confirmed!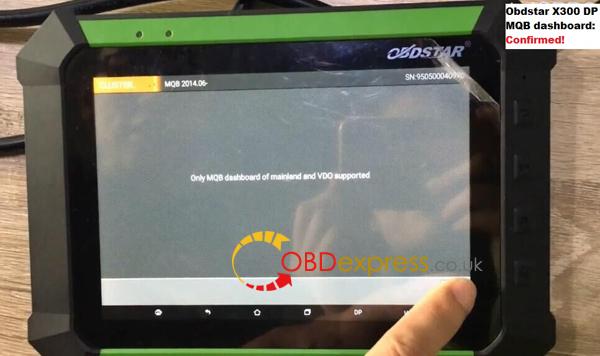 But, they're kind of different, esp in price, function and car list as well..
Xhorse is much more expensive than Obdstar tools but Xhose supports MQB immo and dash while Obdstar supports dash only.
Note that Xhorse VVDI2 is the only key programmer can be used for VAG MQB platform instrument immobiliser. Instrument with NEC35XX (Continental/VDO)
VVDI2 works perfect in BMW and VAG key programming.
Have it if BMW key programming is required.
If not, go for Obdstar tools – cheaper but working good, support more MQB types
If you need a tool for VAG immo and dashboard, go for Obdstar H110;
If you need a universal odometer correction tool, go for Obdstar X300M;
If you works for a workshop, go for Obdstar key master and you'll never look back.
Ps. Obdstar X300M and H110, at the same price, depends on your need.
The last, MQB car list comparison.
VVDI2 MQB car list:
VVDI2 now supports part of VAG vehicles only.
Check the list here:
Audi A3/S3 2014+
Audi Q2
VW Golf7
VW Polo(MQB)
VW Tiguan II
VW Touran II
VW crafter 2017+
VW Passat B8 without virtual cockpit
Skoda Octavia III 2014.07+
Skoda Rapid 2015.06+
Skoda Kodiaq
Skoda Superb III
Seat Ibiza/Ateca/Toledo 2015.06+
Note 1: This type only supports cars with cluster Continental/VDO. JCI type and virtual cockpit is not included
Note 2: MQB Immobilizer function supports original blank key and MQB key made by VVDI2
Note 3: Part of original blank key not support write data
Note 4: MQB Immobilizer function require extra license. Customers who have copy 48 (96 bit) license will get MQB license for free
Obdstar tools MQBNEC35XX list:
(01) VW GOLF SPROTSVAN 2014.06-
(02) VW GOLF 7 2014.06-
(03) VW PASSAT B8 2014.06-
(04) VW POLO 2014.06-
(05) VW TIGUAN 2014.06-
(06) VW TOURAN 2014.06-
(07) Skoda FABIA 2014.06-
(08) Skoda OCTAVIA 2014.06-
(09) Skoda RAPID 2014.06-
(10) Skoda SUPERB 2014.06-
(11) Seat IBIZA 2014.06-
(12) Seat LEON 2014.06-
(13) Seat TOLEDO 2014.06-
(16) Audi A3 2014.06-
(17) Audi Q2 2014.06-
VW:
(1) Amarok NEC+24C64 2014.06-
(2) Bora
JC 2013
NEC+24C32 VDO 2009-
NEC35XX 2013-2015
VDO K line
(3) Beetle
NEC+95320 MM
Beetle k line
(4) Caddy
CADDY
NEC+24C64
Color Meter
Type 1(2013)
Type 2
White Meter(2013-)
2014.06-
2008- CDC
VDO K line
(5) CC
NEC+24C32
NEC+24C64
Color Meter
Type 1(2013)
Type 2
White Meter(2013-)
VDO -12
2014.06-
2014.06-
(6) CDC 2007-
(7) Cross Lavida
NEC35XX 2013-2015
(8) EOS
2006-2007
2008 CDC
2008-(NEC+24C32)
NEC+24C64 VDO -12
VDO K line
(9) Gran Lavida
NEC35XX 2013-2015
VDO K line
(10) Lavida
NEC+24C08
NEC+24C32
NEC+24C64 VDO -12
NEC+95320 MM
NEC35XX 2013-2015
(11)Magotan
2007-2010 CDC
NEC+24C64
Color Meter
Type 1(2013)
Type 2
White Meter(2013-)
VDO -12
2014.06-
(12)Golf
GOLF SPROTSVAN NEC35XX(MQB) 2014.06-
GOLF5 -2006
GOLF5 2007- CDC
GOLF7
NEC35XX(Four Generation)
NEC35XX(MQB) 2014.06-
9S12XHZ512
NEC+24C32
NEC+24C64
Color Meter
Type 1(2013)
Type 2
White Meter(2013-)
VDO -12
2014.06-
VDO K line
(13)GTI
NEC+24C64
Color Meter
Type 1(2013)
Type 2
White Meter(2013-)
VDO -12
VDO K line
(14)Jetta
JC 2013
9S12XHZ512
K Line -09
NEC35XX 2013-2015
NEC+24C64 2014.06-
(15)Passat
NEC+24C32
NEC+24C64
Color Meter
Type 1(2013)
Type 2
White Meter(2013-)
VDO -12
2014.06-
B8 NEC35XX(MQB) 2014.06-
VDO K line
(16)Phaeton
2003-2007
2008-
(17)Polo
2010(NEC+24C32)
NEC+24C64 VDO -12
NEC+95320 MM
NEC35XX(2012-2015)
NEC35XX(MQB) 2014.06-
VDO K line
(18)Sagitar
2006
2007-2010 CDC
NEC+24C64
Color Meter
Type 1(2013)
Type 2
White Meter(2013-)
VDO -12
2014.06-
(19)Santana  NEC35XX 2013-2015
(20)Scirocco
2008- CDC
2008-(NEC+24C32)
NEC+24C64
Color Meter
Type 1(2013)
Type 2
White Meter(2013-)
VDO -12
2014.06-
(21)Sharan
NEC+24C64
Color Meter
Type 1(2013)
Type 2
White Meter(2013-)
2014.06-
VDO K Line
(22)T5
NEC+24C64
Color Meter
Type 1(2013)
Type 2
White Meter(2013-)
2014.06-
VDO K Line
(23)T6
NEC+24C64 2014.06-
(24)Tiguan
9S12XHZ512
2008- CDC
NEC+24C32
NEC+24C64
Color Meter
Type 1(2013)
Type 2
White Meter(2013-)
VDO -12
2014.06-
NEC+95320 MM
NEC35XX(MQB) 2014.06-
(25)Touareg
2003-2007
2008-
(26)Touran
2006- CDC
NEC+24C64
Color Meter
Type 1(2013)
Type 2
White Meter(2013-)
VDO -12
2014.06-
NEC35XX(MQB) 2014.06-
VDO K Line
(27)Transporter
NEC+24C32
NEC+24C64
Color Meter
Type 1(2013)
Type 2
White Meter(2013-)
VDO -12
VDO K line
Audi:
(1) A1
NEC+24C64
2013
2014.6-
(2) A3
2003-2006
2007-2010
NEC35XX(MQB) 2014.06-
(3) A4
RB4 2002-2005
RB8 2006-2007
(4) A4L
2008-2012
2013-
(5) A5
2008-2012
2013-
(6) A6 1998-2004
(7) A6L
2004-2008
2009-
(8) A8L
2003-2006
2007-2011
(9) Q2
NEC35XX(MQB) 2014.06-
(10) Q3
NEC+24C64
2013 Models
2014.6-
(11) Q5
2008-2012
2013-
(12) Q7
2006-2008
2009-
(13) R8
R8 2007-
(14) S5
2008-2012
2013-
(15) S8 2007-2011
(16) TT 2007-2010
SKODA:
(1) Fabia
VDO K line
2007-(NEC+24C32)VDO
NEC+24C64 VDO -12
NEC35XX(2013-2015)
NEC35XX(MQB) 2014.06-
VDO K line
(2) Octavia
-2006
2007- CDC
2009-2010(NEC+24C32)VDO
NEC+24C64 VDO -12
NEC35XX(MQB) 2014.06-
VDO K line
(3) Rapid
NEC35XX(2013-2015)
NEC35XX(MQB) 2014.06-
VDO K line
(4) Rapid Spaceback
2014-2015 NEC35XX
VDO K line
(5) Superb
NEC+24C32 VDO
NEC+24C64 VDO -12
NEC35XX(MQB) 2014.06-
VDO K line
(6) Yeti
NEC+24C64 2014.06-
SEAT:
(1)Alhambra
NEC+24C64 2014.06-
(2)Altea
NEC+24C64 VDO -12
VDO K line
(3)Ibiza
2009(NEC+24C32)VDO
NEC+24C64 VDO -12
NEC35XX(MQB) 2014.06-
VDO K line
(4)Leon
2009-2010(NEC+24C32)VDO
NEC+24C64 VDO -12
NEC35XX(MQB) 2014.06-
VDO K line
(5)Toledo
NEC35XX(MQB) 2014.06-